Clinical results
Lung cancer and lymph node metastasis

The patient had been suffering from a severe lymph node metastasis due to the lung cancer invading the bronchus.
He started NK treatment combined with chemotherapy and radiation therapy.
After the end of NK treatment, the t

horacic CT scan

showed a significant decrease in tumor size from 6 cm to 2 cm. Also the symptom of persistent coughing had disappeared.
Period and frequency of NK Cell treatment: April 29, 2010 ~ August 2, 2010 / Total 7 times
line
Pancreatic Cancer and Liver Metastasis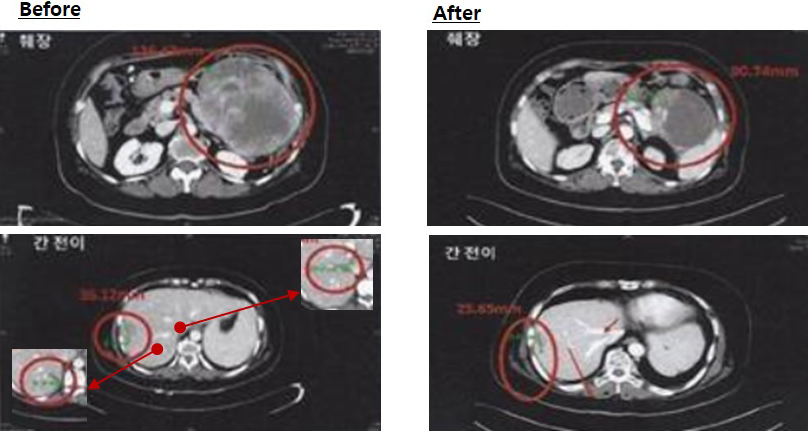 The patient was transferred to a larger medical institution to treat the overlooked liver cancer and pancreas with anti-cancer therapy, cyber knife, and NK cell treatment.
Treatment shows that cancer is currently suspected in only part of the pancreas.
Period and frequency of NK Cell treatment: April 5, 2010 ~ June 3, 2010/5 times
line
Colorectal Cancer - Clinical

Lung and liver were resected due to lung metastasis after 5 months of colorectal surgery, and liver metastasis after 14 months of operation.
Since lymph node metastasis was found, four treatments were used, including anti-cancer drugs.
Multiple metastases were found in the liver and used chemotherapy but were stopped due to side effects.
Started treatment of highly active NK cells.
After 5 doses of highly active NK cells, CT images showed that most of the liver metastases were disappeared and the lymph node metastasis was smaller